---
The History of the Athlit Ram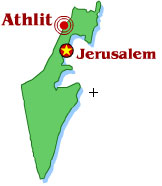 The Athlit ram, a bronze warship ramming prow from a 2nd-century BCE galley, was discovered in 1980 off the coast of Israel at Athlit Bay (just south of Haifa).  It was probably meant to fit on the prow of a medium-sized oared warship (probably a quadrireme or trireme).  The ram is designed to transfer the force and momentum of the attacking ship directly to the enemy ship's hull, while maintaining the full integrity of the attacking ship.
This ram is the only known surviving example of this ancient naval weapon.  It is made of a single casting of bronze weighing 465kg (c.1000lbs) and measures about 2.10m long. The ram is thus one of the largest bronze objects to survive from the ancient world.
The ram is currently on display in the National Maritime Museum, Haifa, Israel.
click on images to enlarge
See the Actium Project for additional information and images
---
Reference
Page Created: October 5, 2004
Page Updated: November 2, 2009
URL:
Page Author: The Institute for the Visualization of History